---
---
The Old Silent Inn on Facebook
A Quality Traditional Pub, The Old Silent Inn Hob Lane Stanbury West Yorkshire BD22 0HW

Legend has it that when Bonnie Prince Charlie was retreating to Scotland, he stayed at this inn, which was then called the Eagle. The local inhabitants remained silent about his presence, with thus it adopted its present name. Over a century ago, a proprietor at the pub fed the wild cats, with called them to her door by ringing a bell. Even today, her ghostly clanging , one may hear, around the pub and across the moors. That is accompanied by the noisy sound of invisible hungry feline ghosts. There have also been sightings of a large man with a travelling bag over his shoulder, walking up the stairs of the inn. At the top, he hesitates, looks around and then vanishes. One night a pair of residents awakened when their bedroom began to shake, with a glass pot flew across the room to collide into the opposite wall. They went to the manager, with together they all witnessed a painting moving about on the wall. Coincidentally, the curtains began opening and closing of their own accord, with no one visible to rearrange them. So, please fill in a few details in the search below and have a closer look at its great reviews.
Dave and Joe
---
Knight Stainforth Hall Caravan & Camping
Knight Stainforth Hall On Facebook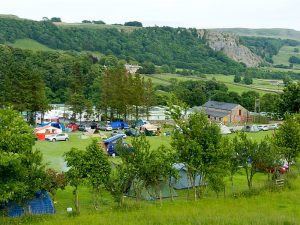 For over 80 years Little Stainforth has hosted both local and national campers. It is also one of the oldest sites still run by the same family, the Maudsley's.
We are sure you will enjoy your stay at Little Stainforth, and we will do everything we can to ensure that your stay is a pleasant and memorable one.
Set in the Yorkshire Dales National Park, the park stands on the 45 acre estate of Knight Stainforth Hall, just 2 mile north of the market town of Settle and nestled on the banks of the River Ribble, a manor house dating back to pre-Norman times, which belonged to the Knight Templar. The park is not only ideally situated for exploring the dales but is also within easy traveling distance of the Lakes and Herriot Country.
The Maudsley family a farming family from the Ribble valley for more than six centuries, diversified into tourism in 1927 by accommodating a Scottish Scout group for their summer camp.
The park is now run by third generation of Maudsley involved in tourism, Chris and Paul, with help from their wives Linda and Gemma. The site has now moved forward offering high quality facilities in this exquisite location.
Ask for Chris Maudsley M0PXP
---
Haworth village is situated at the edge of the Pennine moors in West Yorkshire, England, the area made famous by the Bronte sisters, known as Bronte country
---
Members Sites
M&M Office Services
Worth UK Courier
GBSE Technology
HAM DMR