Communications Provided for the Community by Licensed Radio operators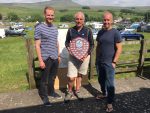 Keighley and Richmond RAYNET will be providing safety cover for the BT Three Peaks Walk on the 10th June. Camping is available from Friday 9th June till Sunday 11th June.
Mike G7HEN and Brian G0RHI are organising  comms for the BT Three Peaks walk. The walk start at the Playing Fields in Horton in Ribblesdale.
We can camping on the playing fields from Friday till Sunday.