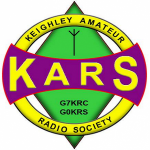 KARS AGM
The 2019 Annual General Meeting will take place at the usual meeting room at The Old Sun Haworth, starting at 20:30 hrs. on the 14th March 2019…
Nominations for Committee members and Club Officers will be taken on the night or via the facebook page. Nominees must attend the AGM on the evening. If there are more than one nominee for any post a vote will be taken to elect the person to take the post. Please be sure that the person being nominated is willing to take the post….
We will be having an any other business on the agenda so if you have any ideas/comments please let it be known.
Thank you for taking the time to read this notice and we look forward to seeing you at the meeting….
Joe G0RLY
Why not make a night of it !
Dining at the club at 19:00 (food orders will be taken on the 7th March at the Keighley Amateur Radio Society meeting)
Keighley Amateur Radio Society AGM  at 20:30
Keighley RAYNET's AGM at 21:30